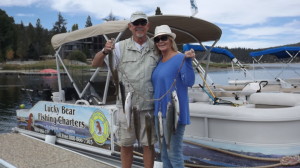 There's no finer time to be out on beautiful Big Bear Lake trolling for rainbow trout.  The tree leaves are turning vibrant colors before our eyes daily now.  The air is starting to chill with the scent of wood burning from chimney's and there's frost on the boat in the morning now!  All these are indicators that the trout are about to adjust to the cooler water temperatures and the bite will be on most days to come before seasons end.  This is truly prime time to be on the lake since all other recreation activities have subsided and fishing is the main attraction now with incredible conditions.  The past couple weeks through a curve at us several times as we expected and we had to work a bit harder to locate and get the trouts attention.  With the water temperatures adjusting and a huge plant for TroutfesT the fish were temperamental at times as they scatter all around the lake.  The good news is the past six hours of fishing did bring a change for the better for those trolling.  Last weekend was TroutfesT 2014 and Lucky Bear Fishing Friend John Rizya and his family had success trolling night crawlers on their down rigger and leaded line.  The youngest of the Rizya Family, Deztany, won FIRST PLACE of the girls division.  Deztany's grandpa, John did a excellent job putting the family on the fish and Deztany did a great job catching!!  Please see our special report on these TroutfesT memories at our Lucky Bear FaceBook page and please LIKE US.   https://www.facebook.com/media/set/?set=a.733428596694123.1073741875.106167629420226&type=1
The past two weeks the majority of our fish have been caught along the south shore from Gilner Pt to Papoose Bay and in the middle of the lake many times.  We did catch along the north shore from SS Relief to the West Ramp but many times we could find a good pattern and get into fish before venturing too far from Metcalf Bay and Boulder Bay.  There were times we did get into double and triple hits which is always nice and brings memorable excitement to the trip!  The down riggers were at 3-15 feet most times and leaded lines from 2-4 colors.  Down riggers did well with custom made spinners tipped with crawlers and the hottest lures on leaded lines were Watermelon and Red Magic Needlefish, brown and gold colored/patterned Rapalas, Phoebes and Little Warriors in Green Gobie and Heavens Door both with copper backs.  Flat lining a variety of Rapalas and Flicker Shads has brought a few of the larger fish ranging 2 1/2-3 pounds.  Timing has been hard to call but fortunately three hour trips seem to always average from 5-15 fish and occasionally late mornings-mid day did have a little more action.  Everyone is mentioning the ideal weather and beauty of the ever changing scenery and enjoying the photo opportunities.  There is no better time to plan a getaway to Big Bear after summer has ended and before the winter rush- a special calm or LULL that most locals and visitors who know enjoy most!
Please call Golden Bear Cottages for lodging 800-461-1023  GoldenBearCottages.com and Lucky Bear Fishing Charters 909-866-7303 for guided fishing trips.