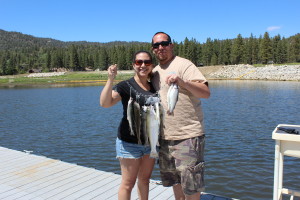 Robert M., Brea, CA 6/12/2015  
Trisha and Mike simply are the best!!! Very experienced in what they do, will answer any questions & both are very fun and make the time fly by. Especially, when u reel in the fish.   Went fishing for my birthday yesterday and my girlfriend & I caught a total of 22 fish, thanks to Trisha & Mike!!! We released most of them of course but the experience was one of our best. It was our second time going fishing with them, our first time we caught a total of 11 fish. Both trips were very memorable & we will be going back. Thanks you guys !
M.A. Chatsworth, CA 11/14/14  Trish and Mike are excellent at what they do. I wouldnt be surprised if they're the best in Big Bear.  It was a fun, relaxing and wonderful experience.  Will do it again as soon as I get some time off.  Thank you Trish and Mike!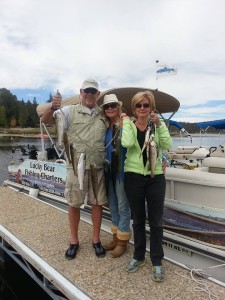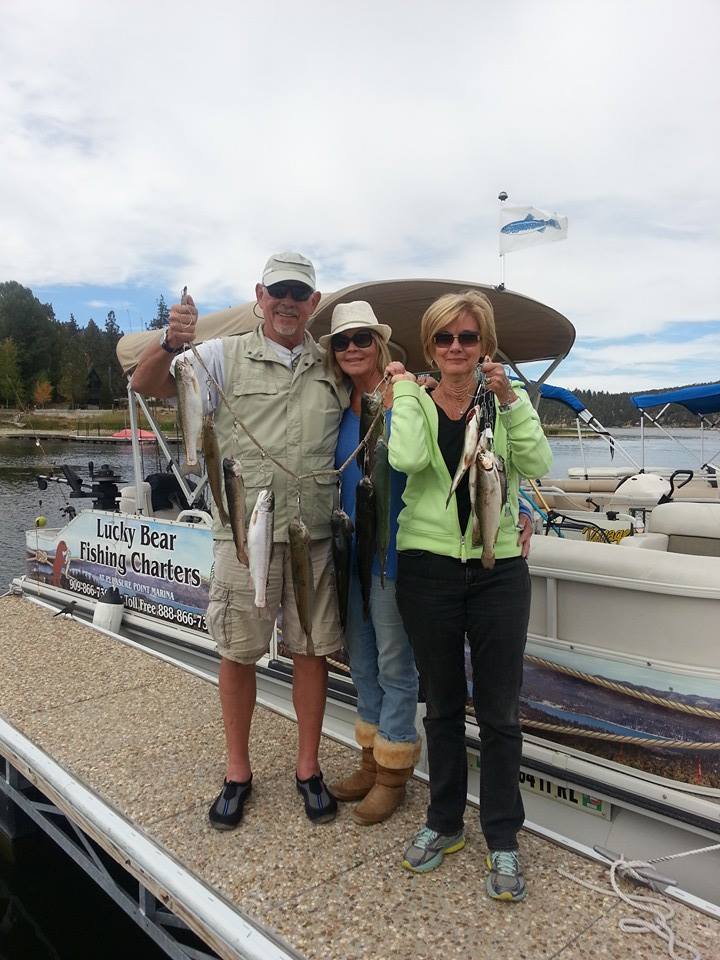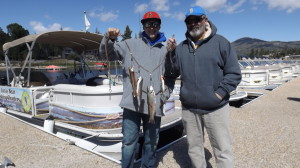 Terry Ann H, Los Angeles, CA 10/8/14  Thanks Mike and Trish! We had a fabulous time! You guys are so much fun…and catching all those 2+ pounders was a bonus!
Victor C, Laguna Woods, CA 9/29/14  My grandson and I fished with Mike and Trish on 9/28/14. What a great time. It was cold and windy and fishing was slow, but we were able to still land 4 trout. We lost a couple. This is a first class operation, and I recommend they to everyone.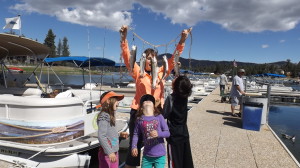 Barbara P,  Calabasas, CA 9/20/14  We had a great charter with Trish and Mike.  Easy and accommodating when we were trying to book, friendly and welcoming when we arrived, patient and knowledgeable throughout the charter.  We had 3 small kids and they were each made to feel special as they learned what to do and reeled in their fish.  We caught 10 in all and released 5.  Back on shore, Mike cleaned the fish and Trish took photos for us.  What a great way to spend a 1/2 day – like visiting with old friends.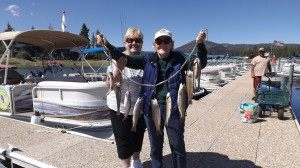 Carol B, Culver City, CA 9/13/14
We just had two more wonderful fishing trips with Trish and Mike—they are the BEST! We love that they are fun, skilled, positive, knowledgeable and really into teaching and sharing their vast experience. We love our Big Bear trip every year, but LUCKY BEAR fishing is always the HIGHLIGHT!! Highly recommended for 'fisherpersons' of all ages!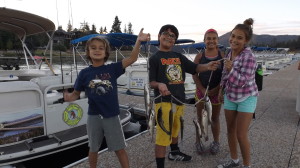 Daniel D, Westminster, CA 9/12/2014
We have gone on several trips with lucky bear now.  My children love the time they have on the charter and Mike and Trish do a great job of helping them fish and making sure they are successful.  We would recommend them to anyone.
Melissa S, 8/2/14  We had a great morning on the lake today with Trish and Mike. Our party of 8 came home with 12 trout! They seemed to know where all fish were biting. This was our 3rd year with them and we will be back next Summer. Thanks Trish and Mike!
Amy H, Rancho Cucamonga, 7/26/2014
If you are looking for a wonderful time on the lake, look no further!!  Mike and Trish are superb Captain and First Mate who ensure that not only are you catching fish, but that you are relaxing, getting entertainment/information if you'd like it and filling your bellies too!  We try to go out and fish with them once a season and are never disappointed!  Hats off to these two who put their hearts and souls in to their work!! And thank you for being fabulous fisher-people 😉
H L, Corona, CA  7/15/14  Every review of Lucky Bear Fishing Charters are 5 stars enough said!  Mike and Trish are just great people and really enjoy what they do, and they know the lake and how to catch trout.
Just book your trip and enjoy.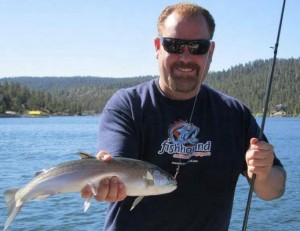 Adam L, Las Vegas, NV 7/21/14
Thank you Trish and Mike for taking me on the best fishing trip of my life (so far)! They took me to some great spots and made the day super fun. By the end of my trip I caught my limit and Mike even filleted the trout for me.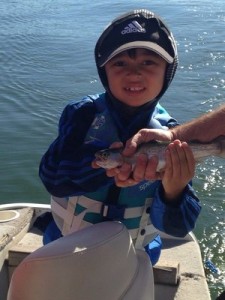 Tran Family 6/14/14
My family and I saw reviews on yelp and booked a lucky open spot with Trish and Mike! They kept in great communication both via email and by phone before our trip. My two boys (7 months and 7 years) had the time of their lives! They even had safety gear for the baby!
We caught plenty if fish in the morning to have for dinner tonight and mike cleaned and iced the rainbows for us! My son caught two fish in our first 15 mins!
The entire three hours we had 6 rods rotating baits and lures.. Watching Trish and Mike was like watching a ballet! They compliment one another's skills very well.. One would be setting hooks the other trolling and in a moments notice they would switch and a fish would be on!! The positive re enforcement and coaching as my little one reeled in his first trout made every penny worth while!!
Best charter we have ever booked!! See you next year guys!
-Tran family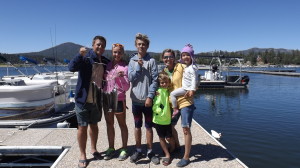 Pete A, San Clemente, CA 6/14/14
"Awesome Family Fun"
We went on a three hour fishing charter with Mike and Trish yesterday during our stay in BBL. My wife and I along with our four kids (15, 12, 8 and 3) had the best time fishing in the afternoon. The weather was great and the fishing was even better. Mike and Trish worked the entire time to ensure we had a great day of fishing. We caught 9 rainbows in the three hours and a great time was had by all…including the 15 year old :). I/we would highly recommend Lucky Bear to anyone considering a day of fishing on the lake. A family that rented a boat and decided to try their luck on their own came back and didn't even get a bite. Plenty of snacks and soft drinks were there for us and the kids and after we docked Mike cleaned all of the fish we caught. Awesome…thanks again Mike and Trish!!! Pete, Lisa, PJ, Ellie, Thomas and Sofia.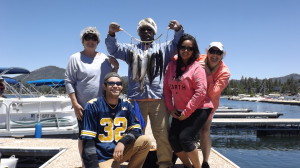 Paul P, Fishhound, 6/6/14  I went out with my family, for a total of six of us. We went out with Lucky Bear Charters. Mike and Trish were great. They are very knowledgeable about the lake and fishing. They are extremely friendly and are down to earth people. I would highly recommend using their service. My mother-in-law had never caught a fish before and she caught two fish. We spent three hours trolling and we got nine fish in the boat and two that had the long distance, catch and release (lol). The weather was sunny and a a little windy. The lake was not crowded. We caught most of the fish in the mouth of Boulder Bay.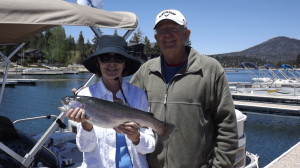 Reviewed May 17, 2014
We totally enjoyed a 3-hour charter with the husband (Mike) and wife (Trish) team that operate the Lucky Bear Fishing Charter. Shortly after leaving the dock, Mike and Trish had 6 lines in the water. The lines were set at different depths with a variety of lures and live worms. We trolled for three hours and our hosts were busy changing to different bait and resetting the lines on a non-stop basis. We went around the lake about four times. When we had a bite, we received professional coaching that enabled us to land our catch. When the catch was close to the boat, Mike would net the fish, remove the hook and place the fish into a fresh water tank. The boat was stocked with lots of snacks and drinks. We released our catch except for a 4.32 pound rainbow trout that my wife caught. When we returned to the dock, Mike cleaned our catch and Trish put the fish on ice inside an insulated bag. We brought a cooler with us in anticipation that we would come home with some fish. We enjoyed our non-stop conversation with Mike and Trish that included fishing instruction and local knowledge about Big Bear. Bottom line … we recommend Lucky Bear to anyone who wants a professional and fun fishing experience!!
Reviewed January 22, 2014
One of our favorite things to do is to go to Big Bear Lake. Although my 5 year old son enjoys "trying" (operative word) to catch fish on the shoreline or dock, he never has much success. Recently another family (with another 4 year old boy) joined us on our trip to the lake and we decided to try something a little differently. We were fortunate enough to find Lucky Bear Fishing Charters which was AMAZING. The parents were able to enjoy a very relaxing boat trip on the lake while our boys had the time of their lives catching a LOT of fish. Our boys caught enough trout to feed us all dinner and lunch the next day. The fishing charter owners (Mike and Trish) really knew what they were doing and were great with our kids (who now cannot stop talking about all the fish they caught). If you want to do any fishing in Big Bear, I would definitely recommend Lucky Bear Fishing Charters.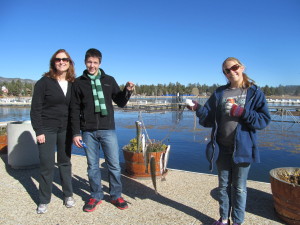 Deborah M.H., CA 11/13/13  Thank you for the wonderful day!
Jean L,  CA 10/14/13  Mike and Trish at Lucky Bear are Awesome! The fish weren't biting much on Saturday 10/12/13 but they searched and searched and searched (and worked really hard swapping out poles and bait throughout our trip), and they stayed out on the lake "overtime" to make sure that we caught something, which we did. Lucky Bear is the best!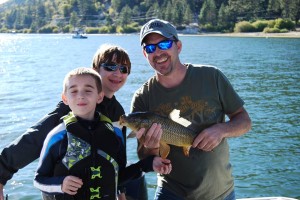 Kim P.E., Phoenix, AZ 9/30/13   Awesome day fishing today Trish and Mike!! We will be back when we come back to Big Bear!  We took our two boys, 10 and 13 yrs old, for a fishing trip with Trish and Mike.  These two really know how to locate the fish…they are serious fishers!  They do their best to make sure you get your kiddos or adults fishing to their best…they were great encouragers to the boys as they reeled in their fish.  We caught 7 fish, and we threw one back since it was a little small, and we caught a carpe fish, which isn't edible, so we threw him away.  We took home 5 fish.  As soon as we got home we cooked the biggest fish and it fed all 4 of us – it was around 3 lbs.  We had a really nice time – it was a beautiful day on the lake.  I highly recommend the Lucky Bear Charter.
Bill C., Redondo Beach, CA 9/28/13  Trish and Mike get it!  Not only do they know how to find the fish, they know how to provide a relaxing and fun experience.  My girlfriend and I are novices and just looking for a nice time on the lake catching some fish and some rays. Trish and Mike provided the perfect platform.  Bring some sunblock and a good attitude and Trish and Mike do the rest.  Highly recommended!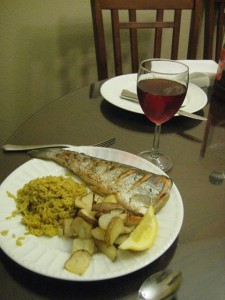 Tran G., CA 9/3/13  We caught 18 fishes during the holiday weekend, there were father and son, father and daughter catching fishes at the same time, we had a wonderful time fishing and also enjoying the beautiful surrounding of the lake as well.  The fish was so good when we got back to our condo, it was delicious.  Mike and Trish, Thanks for the good time.
 Arin G., La Mirada, CA 8/13/13  Excellent! We chartered a boat for 3 adults and 4 children (ages 2 – 10). Mike and Trish were awesome.  These two worked their tails off the entire 3 hours. Being novices, we really appreciated their experience and willingness to do EVERYTHING! They were such a good team.  They offered a nice variety of snacks and drinks as well. I would highly recommend this company!
Scott R., Orange, CA 8/13/13  Truly amazing!  I know this sounds like another trite platitude, but Mike and Trish truly created a memorable experience for my family.  Starting with our pick-up at the Lagonita Lodge dock to ensuring that all of our needs were met–including snacks and drinks for our kids–Mike and Trish took care of every detail.  While fishing, Mike and Trish proved their knowledge of the lake and demonstrated their angling skills.  Both of my sons (three and six years of age) learned a great deal from these masters.  Once we returned to shore, Mike and Trish dressed our fish and packed them on ice.  We had a great dinner later that night.  Will recommend Mike and Trish any chance we get!  Can't wait until our next trip!
Michael K., Los Angeles, CA 8/3/13  Amazing! We tried this fishing charter because of the high ratings on Yelp! And we're not disappointed. Fantastic for a family outing even if you have never fished before. Mike and Trisha were perfect with our children and we caught 11 Rainbow Trout which we just ate for dinner. We also gave some to the bears and eagles at the Zoo on Moonridge and they were very happy! Highly recommended!
Graham B., CA  7/31/13  These guys are awesome!!!! Extremely good with my kids! Boat was top notch! Booked again for Friday and the misses is coming along because the boat is so nice and she's just gonna catch some rays!  Much Love  The Buttrey's!
Chris W., Glendora, CA 7/9/13   Absolutely the BEST guides on the lake. Knowledgeable, friendly and productive. It just doesn't get any better than a trip with this team. From the hardcore to the novice everyone will get a trip to remember. Thank you for everything you have taught me.
Cafe R., Los Angeles, CA  7/8/13  Woohoo! As good as it gets!  Had a great time trolling for trout around Big Bear Lake.  Husband/wife team works really hard to get the fish on.  Snacks and drinks were good.  Very comfortable pontoon.  Highly recommended.
Eugene L., Northridge, CA 6/16/13   Just finished our fresh trout dinner thanks to Mike & Trish of Lucky Bear!  It was our family's first time fishing and the girls absolutely loved it and want to go back again the next time we're in Big Bear.  Lucky Bear was a fantastic experience for us as they take care of absolutely everything from drinks, snacks, setting up the fishing, finding the fish, teaching us how to reel in the fish and then cleaning the fish and packing it up for us in ice.  Highly recommend for any families looking to have an amazing fishing experience in Big Bear.  Mike and Trish are awesome!
Paul P, CA  6/4/13  I enjoyed fishing with Lucky Bear Fishing Charters on Big Bear Lake on June2, 2013. They are very genuine people. They did not work at it to be friendly, it was natural. They did a great job in locating fish, assisting in fishing techniques and great customer service. I would definetely use their services again.
Hiloan, Honolulu, HI  11/4/12  We have gone to fishing charters in Alaska for salmon and Halibut before. So today we went on a fishing charter with Lucky Bear. This husband and wife team (Mike and Trish) are such nice people. They take care of everything from lots of snacks and varieties of drinks..to baiting multiple poles for us and really watching to ensure every hit is reeled in just right, coaching us all the way! They start fishing quickly and use up every minute of the charter trying to make as many opportunities to catch fish as possible. They KNOW their business! They give you the most for your charter $$. They take you all over the lake trolling and don't try to take shortcuts or economize on your enjoyment. So worthwhile going with them. Of the 3 charters they did today..ALL of Em caught fish! That tells you whether they are worthwhile to use….really nice down to earth folks!
Carol B., Culver City, CA  9/30/12  You can't beat Lucky Bear owners, Mike and Trish, for fun, fish, accommodating all ages and levels of proficiency….a truly GREAT fishing experience on beautiful Big Bear Lake.
Kendra W., Huntington Beach, CA  9/27/12  A family fishing experience we will never forget!!!  I can't thank Mike and Trish enough for all they did for us!  Lucky Bear is the one to choose!  Mike and Trish went above and beyond: setting up rods, sharing facts about the lake, providing snacks and drinks, stopping for bathroom breaks when needed and making sure the kids were catching fish after fish! (10 in total).  They never rested!  They are so friendly and caring- you can tell they LOVE what they do!  We had a late afternoon trip that provided the most spectacular sunset.. when we docked, Mike cleaned and packed the fish for us!  Honestly, all we had to do this trip was jump in the seat and reel in the fish- we are fans for life!  Every picture I took was filled with smiles and fish!  Thank you Mike and Trish for creating such a wonderful memory for our family! We can't wait to do it again!
Shawn T., Rancho Cucamonga, CA  9/4/12  I spent 3 hours on a boat with Mike, Trish, and my family. It was one of the best vacation investments i have made. Mike and Trish took care of everything. They set up the rods, provided bountiful refreshments, and they helped my young children bring in fish after fish. At the end of the session, they cleaned the fish, gave us a portable cooler filled with ice, and sent us away happy.  If you are looking for a family experience, book this charter. We will be back year after year.
M. S.,  Pasadena, CA  8/6/12  What a great family experience! Trish and Mike are awesome. Fishing has been a bit slow on the lake this Summer…not for Lucky Bear, we caught 10 fish and everyone of us got in on the action. If one spot didn't work, Trish and Mike went to another to assure getting some fish. If one lure or bait didn't work, they'd change them for us. Food and drinks on board, friendly, clean boat, music and an overall relaxing time. I can not recommend Lucky Bear Fishing Charters (and Trish and Mike) enough! Don't go anywhere else.
Jeff J, CA  7/1/12  Trish and Mike were great! They took great care of us and ensured we all had a great trip. From start to finish it was a great relaxing time. We all caught some fish and cant wait to go back!
Marty F., Carlsbad, CA  5/31/12  What a great time! Trish and Mike are fantastic hosts and they took care of EVERYTHING needed to ensure a good time for our family. Each of our three boys caught their very first fish and we all had a lot of fun. Lucky Bear is one of the best experiences a family can have in Big Bear, so make sure you bring a camera to capture the memories. – We'll be back!
Joanna R., Valencia, CA  10/14/11  We worked with Mike and Trish to get us on a group charter.  After reading such great reviews on Yelp and seeing how family friendly they were, we were hopeful we made a good choice.  Our group charter turned out to be a private charter as Mr. R and the 8-year old were the only ones on the boat!  I think most places would have called us and cancelled due to minimums not being met, but Mike and Trish went ahead and the guys had a great trip.  They went around the lake 3-4 times and caught some 10 trout total. There were snacks available and they had a great time.  We highly recommend them!
Samantha K., Loma Linda, CA  10/29/11  All we can say is WOW! Mike and Trish are amazing! We planned a girls get away and decided to try something new! We didn't really have any fishing experience and were a little worried about booking a charter. We chose Lucky Bear based on their yelp reviews and the fact that they are a husband and wife team. I have to tell you it's the best decision we made! From the moment I spoke with Trish the day before our charter, where she offered tips and told me she had extra sunscreen if we forgot ours, I knew these were quality people! We had so much fun with them as they are excellent hosts and just genuinely wonderful people. And the fishing!! Oh my gosh! It was non stop action! At one point we had three trout on the lines all at the same time! We caught 26 fish and kept 15! They knew exactly where to take us to find the biting fish and patiently and enthusiastically answered all of our questions! A wonderful bonus was that Mike cleaned our catch and Trish bagged them up and sent us on our way with an insulated bag to transport them home in! All in all these folks are top notch! Great people! Great fishing!! We will definitely be back! We love Lucky Bear Fishing!
Kymber L, Gilbert, AZ  9/6/11  Lucky Bear Fishing Charters provide an A++ fishing experience for kids and parents alike!! We are parents to two wonderful kids, Owen 5 and Olivia 3, and we can't think of a better way to experience Big Bear Lake and the outdoors than fishing in the morning with Mike and Trish.  In fact, we make a point to reserve at least two days of fishing every time we come into town.  In terms of angler skill, I am convinced there is no better on the lake!   In our four days with Trish and Mike we have never caught less than 12 fish per day and at times had three fish on the lines at once!!   We now book our trips early in the week just so we have enough days left to grill all of those delicious trout!  Imagine the challenge of netting a fish reeled in by a three year old (with a little help).   I am convinced that Mike can reach out at least 15 feet behind the boat to ensure the fish is caught and there is no disappointment for our little ones.  This is followed by great assistance from Trish to get just the right photo or video for a wonderful memory.  Our kids love these mornings on the water and talk of both Trish and Mike fondly when we look at our vacation photos.  With small children on a boat, safety was a concern for us and it clearly is for Trish and Mike as well.   There are life jackets of every size, color and Disney character to entice your little one to wear it with pride.   These life jackets are new, very clean, and coast guard approved.   The boat is meticulous with no hooks are sharp objects to be found on the floor, seats or open compartments.  And the kids were happy to sit up front for the faster journey to the great fishing spots while snacking on the unending supply of snacks and drinks!  We highly recommend Lucky Bear Fishing Charters and look forward to our next fishing adventure with them on beautiful Big Bear Lake!!
Ken & Diana L., Pomona, CA  8/11/11  The name was what sold it for my husband…the five star service, Trish and Mike,  and memories to last us a lifetime is what will keep us coming again and again!  We went out on the three hour (4-7) fishing charter pontoon boat.  When we spoke with Trish she was gracious enough to let us know what we would need – dress in layers, bring a camera, sunscreen, hat, and light sweater or windbreaker.  She forgot to tell us the amazing time we would be having.  All my husband wanted was for us to catch three fishes, one for our 14 year-old daughter, one for our 10 year-old son, and one for me.  By the end of our trip, Mike and Trish managed to take us to the perfect locations where the 17 rainbow trout were ready for us.  Yes!  We came home with 17 beautiful fishes and lots of smiles on our faces.  There was not one minute when Mike and Trish were not hustling to get us to the fishes.  While Trish was driving the boat with one hand, her other hand was baiting the other rods free standing on each side of the pontoon.  While Mike was busy instructing and guiding us on how to bring in the fish, he was also directing Trish on possible fishing spots. They complimented each other perfectly; similar to ballroom dancers.  I suggested they should have a reality show, but forget that.  We want to go back to ONLY Trish and Mike on The Luck Bear. If you ever visit Big Bear Lake and plan on doing something worth your time and money, the Lucky Bear Fishing Charter with Mike and Trish is the perfect outdoors activity.  You won't be disappointed.
Wheels G., Canyon Country, CA  8/9/11  If you want to make lots of memories and catch lots of fish, this is the place to go.  Mike and Trish obviously love what they do and it shows.  From the minute we boarded their pontoon 'til the minute we left the docks, they were warm and welcoming.  They not only provide all the rods and tackle you need, they baited the hooks and drop the lines too.  They also keep an ample supply of drinks and snacks to keep the kids happy and full.   Trolling for 2 1/2 hours, my 2 kids caught 20 trout!!  They loved reeling them in and watching Mike catch them in the net as they approached, especially when they caught fish at the same time!!  I have to admit, when the kids were reeling them in, i had flashbacks from my days of fishing and kinda wished i had gotten a license…but my kids' happy faces told me i did the right thing.  Heck, i got to take out the hooks and toss them into the holding tank…it was great.   Then, when you think it can't get any better, Mike cleaned the biggest trout the kids kept to eat, and Trish bagged the other 9 for us to take to the Moonridge Animal Park so the Grizzlies and Eagles could have some nice, fresh fish for dinner too.  The kids had fun helping Mike throw the remaining fishing back into the lake for others to catch another time.   It really doesn't get any better than this.  Pick up the phone and call them right now!!  They book up quickly and you don't want to miss having such a great time w/your family.
M.W., Irvine, CA  8/8/11   First time fishing for my 3 kids and their 3 cousins.  Props to Mike and Trish for not running away when they saw one adult get out of the car with 6 little kids for fishing on their boat!  The boat was great, stocked with a great variety of snacks and drinks.  The fishing was awesome.  All the kids had to do was reel them in and everyone caught at least 4.  Next time we're going to save fishing for the last day of the trip so we can take fish home to share with family.
Keven S., Encino, CA  7/27/11  Planning a family vacation can be challenging, especially where activities are to be planned for the enjoyment of the entire family, which includes an 11 year old boy and a 14 year old girl.  In searching for a family activity on Big Bear Lake, I was fortunate to have come across Luck Bear Fishing Charters and its owners/operators Trish and Mike.  I was lured (pardon the pun) to their business by their advertisement that their charter was family run and family oriented.  They nailed it !  From my initial email contacts with Trish through the entire charter, Mike and Trish were as nice and polite as can be and conducted the Charter like a well versed orchestra.  Our every needs were met, and then some !  While they advertise like other charters that they provide "drinks and snacks," given my wife and I are health conscious when it comes to food, we anticipated that the drinks and snacks" would be nothing but high calorie and high sugar sodas, candy and chips.  So we brought our own provisions.  Needless to say, we did not have to dip into our own provisions at all.  Mike and Trish (actually Trish's mother) had outfitted the boat with not only the typical "snacks and sodas" but also with pure fruit juices, natural sodas, nuts and energy bars.  This was comforting and came in handy as the Charter progressed.   Now to the fishing.  This was our family's first fishing trip and my 11 year old son's first time fishing.  In fact, I had not been fishing since I was about his age, which I am now well beyond.  Mike and Trish set everything up for us, told us what to do and how to do it and politely monitored our every step.  All we had to do was hold onto the rods and hope for a bite.  The first hour was quiet, with no nibbles.  But what came after-wards, was truly amazing.  During the next two hours, my son not only caught his first fish (a rainbow trout), he proceeded to catch 9 other trout – 10 in total for him.  I thought I was doing well with having caught 5 trout (of nice size), but my first time fisherman son beat me 2 to 1.   In all we caught 15 trout in less than two hours !!!!!  This certainly was not due to our fishing prowess, but rather to the expertise of Mike and Trish in knowing where the trout are in the lake, including their depth in the water, as well as what bait and lures were most attractive to the trout.  Having really never caught any fish before, we were not sure what to do with our bounty.  When we docked, we threw about half the fish back for others to catch.  The other half, Mike gladly took from us to clean and Trish then placed them in freezer bags and gave us a real nice insulated grocery bag and bag of ice to store the fish until we got back to our cabin.  Mike provided us with easy and simple cooking and garnish instructions which my wife used to cook us a fabulous fresh fish dinner that evening.  It was a first for her too, in that she had never cooked fresh fish.  Needless to say, the trout was wonderful and because of the size of the fish we caught, our entire family was only able to eat one amongst all of us.  Our charter with Mike and Trish could not have gone any better and now my son is spoiled in that he thinks every time he places a rod in the water, he will within minutes pull it out with a fish attached.  Even my wife and daughter enjoyed the trip by basking in the sun in the front of the boat.   I strongly recommend Luck Bear Fishing Charter to everyone.  Our charter was a trip of a lifetime and we look forward to our ext expedition with Trish and Mike.
Kelly G., Green Valley, AZ  7/19/11  You have got to do a private charter with Mike and Trish while visiting Big Bear Lake. They supplied us with everything we needed:  top-notch fishing equipment, lures, bait, and a great fishing platform with the LuckyBear pontoon.  Oh, and they always have lots of snacks and drinks on board, but who has time for that when you are busy with double hook-ups and landing fish every 5 or 10 minutes?  But more importantly, they use their instinct, judgment, experience and a little bit of technology to put you on the fish. Three limits of fish in a little over 2 hours of trolling speaks for itself.  The bottom line is my slogan for them:  "Mike and Trish Find the Fish!"
Gene S., San Gabriel, CA  6/19/11  We went out a couple of weeks ago on a Saturday with Mike and Trish (four dads – four 8 yr. old boys) on a 3 hour charter.  18 trout later, the boys were ecstatic with all of the fish they caught, and the excitement of pulling them in and the dads were looking forward to fresh fish for dinner.  Mike and Trish do a great job of managing not just the fishing, but the overall experience to make sure that all of the boys had a fun time and we got to relax.  They provided just the right amount of help for the boys to learn what they needed to do and not lose the fish.  It was so nice to roll up from Los Angeles and walk onto the dock with just a jacket, a camera and some ice cold adult beverages – knowing that they would have everything else ready to go.   They had snacks and drinks for the kids, all of the bait and tackle for about 8 lines trolling at a time.  They hooked everything up and got it rolling immediately after leaving the doc and we caught our first fish 5 minutes into the trip.  Overall a great experience, I can't wait to come back and do it again later this summer!
Portera P., Long Beach, CA  8/24/10  While planning a camping trip in Big Bear Lake, I pondered over something new and fun that we all could do together.  Luckily I came across Lucky Bear Fishing Charters and after some email communication with the operators I booked a trip for my family and our three friends who were joining us for the trip.   We took an awesome 3 hour charter with Trish and Mike of Lucky Bear.  Everyone aboard had a fantastic time.   Mike and Trish run a great operation and we thoroughly enjoyed ourselves.  After arriving at the marina and introductions all around, we hopped aboard their comfy, cushy pontoon and headed out on the lake.   Four of us were fishing and two in our party were just along for the beautiful ride.  Mike and Trish rigged up the fishing poles and took care of everything for us, all we had to do was sit, relax and fish!  The boat was fully stocked with every type of yummy snack you can imagine including chips, candy, fruit rolls, granola bars and Slim Jim's among tons of other things.  They also provided ice cold bottles of water, soda and juices.  They had great music playing on the stereo as well.  As we slowly cruised the lake, trolling for trout, they filled us in on many interesting little tidbits of info about the lake and its people.  It wasn't long before we reeled in our first Rainbow trout.  At the end of the trip we had managed to catch four nice trout!  What a great experience, especially for my nine year old son who caught the biggest fish of the day!  When we arrived back at the marina at the end of the trip, Mike cleaned the fish for us while Trish grabbed us a bag of ice and packed the cleaned fish into a nice insulated carrying bag.   In the end, I was the hero among my group for hooking up the fishing trip, but Mike and Trish are the real heroes for running such a class operation.  Next time you're in Big Bear book a trip with Lucky Bear.  You're guaranteed a great time.
Greg B., Riverside, CA 10/17/09  The Charter fishing trip we took out of Pleasure Point Marina was outstanding!  Mike and Trish took really great care of us and were both very knowledgeable and fun.  They took care of everything and provided all the tackle.  We didn't have to tie a knot or bait our hooks and we bagged several nice size trout and a beautiful bass.  We had a great time and can't wait to go again!
 Guy A., Thousand Oaks, CA  8/30/09  Went out with my wife, teenage son and stepdaughter this past Friday after booking the '4-7PM' trip online.  I was initially impressed with the detailed information on pricing, etc., and the ease of online booking that was available on their website. Being far-removed from my fishing days of childhood, I was hoping to find an 'all-inclusive' package that provided all the rods and reels, bait, lures, and someone who could take us to where the fish were actually biting.  (After reading in some of the local literature that August is considered the 'Dog Days of fishing' up in Big Bear, I was just hoping that at least one of the kids would hook into a trout…)  When we pulled into the dock three hours later, we were thrilled to count seven beautiful fish, and that was mainly due to the expert guidance of our hosts, Trish and Mike, who immediately felt like old friends and who also assured us that they would handle everything.  We rotated two at a time in the rear-facing seats as we trolled the beautiful lake in their very cushy boat; I was amazed at how well padded the seats were; it was equally enjoyable just cruising along looking at my gorgeous wife as the kids sat in back looking at their pole tips waiting for the next hit.  In fact this was really the first time during our 5 day stay that I was actually able to completely disconnect from all thoughts of work and just take in the beauty of the lake, the sky, my family, and really just sit silently in a space of gratitude…  Trish and Mike had plenty of snacks onboard, although we brought our own, as well as some interesting info about some of the celebrity homes along the lake. Cool tunes were playing on the radio at just the right volume; I remember as we headed back with the sun dropping down behind the mountain and the coolness of the breeze keeping us present and the gentle wafting of Bonnie Raitt's 'Dimming of the Day.'  Perfection…  After we docked,  Trish took a picture of us with our full stringer and then Mike graciously offered to clean the fish for us, an offer we gladly accepted.  If you're wanting to venture out on Big Bear Lake and possibly come back with a lot more than just fish, I suggest you book your trip well in advance, as I saw Trish handle several inquiries on her cellphone during our trip and word will surely get out about these guys-they ROCK!  🙂